The production version of the Lister Bell STR Stratos replica chassis has been modified for universal left & right hand drive versions.
On a RHD installation the unused master cylinder holes are used for the demist system & vice versa.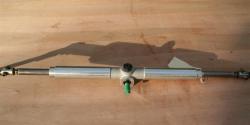 The rack was already consciously designed to be universal for left or right. The wiring loom runs down the central spar area with tails off to one side for the column switch gear & tails off to the other side for the fuse box, these are reversable allowing for existing cars to be converted easily at any point in their life. Therefore the LHD variant will be available at no extra cost.
Other additions include;
- dedicated central tunnel, with seperate aircon and coolant compartments
- revised roll cage to give additional head clearance for trackdays/competition use
- anti roll bar brackets
- rear bonnet pin brackets